5 Promising Reasons Why You Should Use WP Migrate DB
When it's time to change your hosting services, the next crucial part that can't be skipped is migrating your website data from the former site to the new site. A migration plugin can help you with the process to make it quick and easy. 
Previously, we have compiled the 7 Best Migration WordPress Plugins You Need to Use in 2021. Among them, there is one powerful plugin that you shouldn't miss, WP Migrate DB. In this post, we will tell you 5 reasons why you should use the WP Migrate DB plugin!
WP Migrate DB
WP Migrate DB is a WordPress plugin by Delicious Brains for migrating databases from your old WordPress site to the new site. It allows you to export your database, perform a find & replace that handles serialized data, and save migration profiles. Migrating sites is easy, fast, and straightforward with WP Migrate DB. 
Besides migration, WP Migrate DB also allows you to do more things, such as export database, push & pull database, find & replace, and many more. Furthermore, in the Pro version, there are some addons that provide you more flexibility when migrating your sites.
You can read our full review of WP Migrate DB here.
5 Reasons Why You Should Use WP Migrate DB
Multi-purpose plugin
WP Migrate DB is not only a WordPress migration plugin. It's a versatile plugin where you can do many things in one plugin:
Migrate the database

from your old site to the new site

Push & pull database features

in the Pro version

Export your website

database

Import a website backup

directly by uploading the backup file

Reduce your backup file size with

Gzip compression

save it to your computer.

Restore the location information to your backup using the

search and replace

fields.

Exclude some data from the export process

(post revisions, transients, and spam comments 

Replace

globally unique identifiers (GUIDs)

Create

migration profiles

to save all of your settings for future use.

Compatibility Mode

to load certain plugins to minimize potential code conflicts and performance problems

Set maximum request size

to accommodate your needs.
Read also: 7 Best Migration Plugins You Need to Use in 2021
There is a free version enough for migrating websites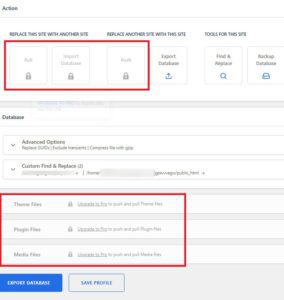 In addition to the Pro version, WP Migrate DB has a version that you can use 100% free.  The free version of WP Migrate DB is a simple backup WordPress plugin that allows you to export your database as a MySQL data dump. Then, you can import them to your new site. Despite being free, the plugin is fully capable of website migration. 
It also comes with find and replace features where you can restore location information to your backup. Moreover, there is an advanced options area in the migration tab, that lets you replace globally unique identifiers (GUIDs) and exclusive content such as spam comments, transients, and post revisions.
However, it lacks the import and push-and-pull functionality of the Pro version. Overall, the free version of WP Migrate DB is handy for creating a backup of your website.
Fast migration process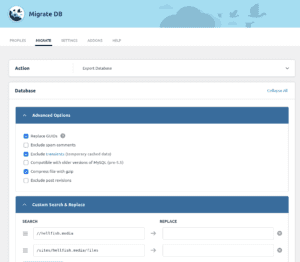 If the free version of WP Migrate DB is a handy migration plugin, then the Pro version is a handy and fast migration plugin. It provides additional functionality where you can completely replace a WordPress website remotely. Consequently, this is surely enabling a faster migration process. 
WP Migrate DB Pro lets you transfer the whole database or select the exact tables you want to back up and migrate. That option is particularly useful if you've migrated the website previously since it saves you from transferring everything again. 
You can monitor the whole process of migration, backup, or import happening on your website. It shows you exactly how much of the database has been restored. Moreover, you can pause, resume and cancel any import or migration.
Easy to use with the intuitive and simple settings menu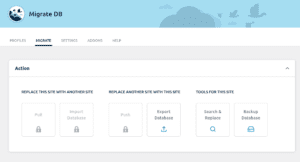 One of the benefits of WP Migrate DB is the simple and modern user interface. When you open the WP Migrate DB settings menu, all features and options are well organized. It shows the 4 main actions of WP Migrate DB. Then, after choosing which action to do, it will only show the next settings so you don't get lost in the options.
This simple yet intuitive settings menu makes for you to use WP Migrate DB. Just choose between migrating, push or pull, search & replace, or backup. After that, the plugin will automatically guide you to fill in the settings and proceed with the action.
Read also: How to Migrate Your Website Safely with WP Migrate DB (Complete Guide)
Add more flexibility with useful addons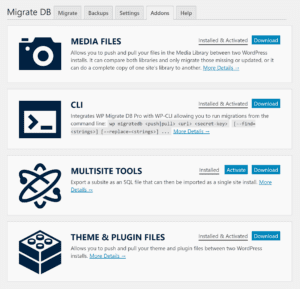 WP Migrate DB allows you to add more flexibility to its plugin with the addons. There are four available addons in the free and Pro version of WP Migrate DB:
Media Files add-on allows you to push and pull media library files from one WordPress website to another. It's useful to overcome the synchronization problems that can arise when migrating media files to a website that's been migrated in the past. 
Furthermore, there are options to compare media files before migrating, compare and then upload and remove, or remove all media files from the target website and upload them afterward. These options will stop you from creating duplicate media files during the migration process.
This add-on allows you to run migrations directly from the command line instead of the graphic interface. The CLI addon in WP Migrate DB integrates with WP-CLI. Therefore, you need to install WP-CLI has to use this addon.
Multisite Tools add-on is useful for supporting WordPress Multisite. Moreover, you can utilize it to push a subsite to a single WordPress installation and vice-versa. You can also migrate a subsite between multi-sites.
Theme and Plugin Files add-on lets you push and pull WordPress themes and plugins between two websites. You can also select which themes and plugins are imported during the migration. This addon is really useful for setting up new client websites and installing new test environments.
If want to use these addons, you must purchase a WP Migrate DB Pro developer license or above. Then, you'll see the option to install and activate each of these addons. After that, you can download the zip file for each addon directly to your computer if you wish.
Conclusion
WP Migrate DB is probably one of the most popular plugins for WordPress migration. Obviously, there are many reasons why you should use it to transfer your website database. It allows you to migrate, export, import, push & pull database, and search & replace in one plugin. Besides that, there are add-ons to make those actions more flexible. Moreover, WP Migrate DB has a clear and simple user interface that won't confuse you to use the plugin.
Apart from that, the plugin comes in free and Pro versions. The free version enables you to simply migrate your website by export and import your database as a MySQL dump. If you want to migrate the whole website database with a faster process, you should upgrade to WP Migrate DB Pro.
References