Astra vs OceanWP - Which One is The Best WordPress Theme for You in 2021?
Are you hesitating to choose between Astra or OceanWP for your WordPress theme?
Both Astra and OceanWP offer professional designs, many customization options, and support for third-party WordPress plugins. The themes are available for free via the official WordPress themes directory but also have premium plugin extensions that expand functionality are available. They're also similar in terms of features and style, which can make it seem difficult to pick the right one for your needs. 
Therefore, we have put together a comparison between Astra and OceanWP to see these two competing in several aspects.
Astra


Astra is a WordPress theme suitable for blogs, personal portfolios, business websites, and WooCommerce storefronts. Not only providing you with beautiful themes, but it is also very lightweight (less than 50KB on frontend) and highly customizable even for non-coders. It's mainly emphasizing the theme's performance on the website. Built with SEO in mind, Astra comes with Schema.org code integrated and is Native AMP ready so search engines will love your site. 
Ocean WP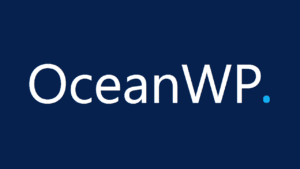 OceanWP is a WordPress theme with innovative features and probably is the most generous free theme. This theme emphasizes style and highly-customizable design. There is a suite of extensions that can be purchased which will extend the theme even further. It also offers lots of demos you can use to customize the look and feel of your site. It's applicable for a wide range of uses but is particularly well-suited to e-commerce sites (and integrates very well with WooCommerce).
Getting Started
When choosing a WordPress theme for your website, it's not only about the aesthetic appeal that you need to consider. There are more things to be aware of since your theme also affects the performance and experience of building your site. 
In this review, we will compare Astra and OceanWP in terms of:
Themes (including free and paid themes) & Customization

Features & Extension

Compatibility

User Interface

Speed & Performance

Price
Themes & Customization
Both Astra and OceanWP provide high-quality pre-made designs. Astra calls its pre-made designs Starter Sites meanwhile OceanWP calls them Theme Demos. OceanWP has more pre-made themes compared to Astra. However, in terms of free themes, Astra is more generous than OceanWP.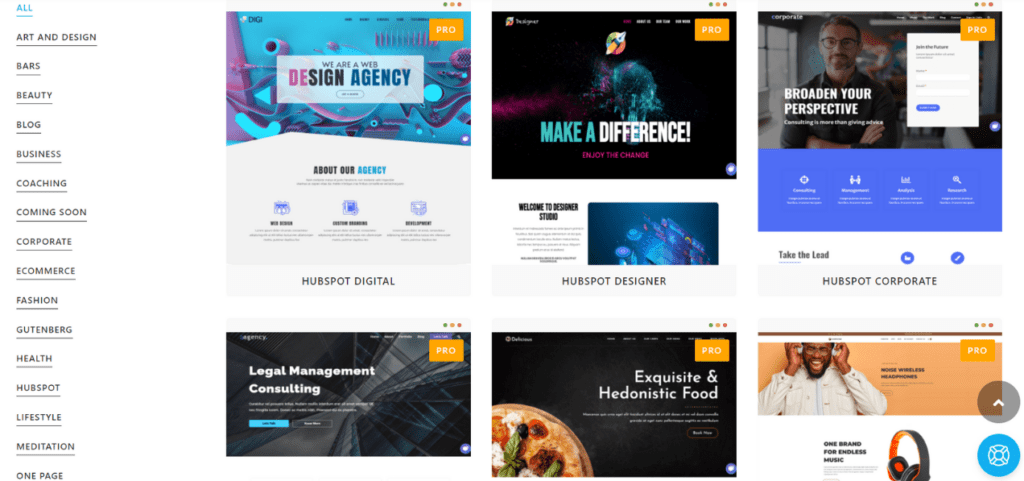 For the design aspect of themes, Astra is a bit better than OceanWP because it offers a wider variety of designs on offer too. Both Astra and OceanWP support the WordPress theme customizer, so you can make changes to your website design and preview them in real-time. However, if we're talking about which one of them is better then OceanWP is the answer. Compared to Astra, OceanWP lets you customize more areas of your design and gives you a higher number of settings to change. On the other hand, Astra falls short in comparison.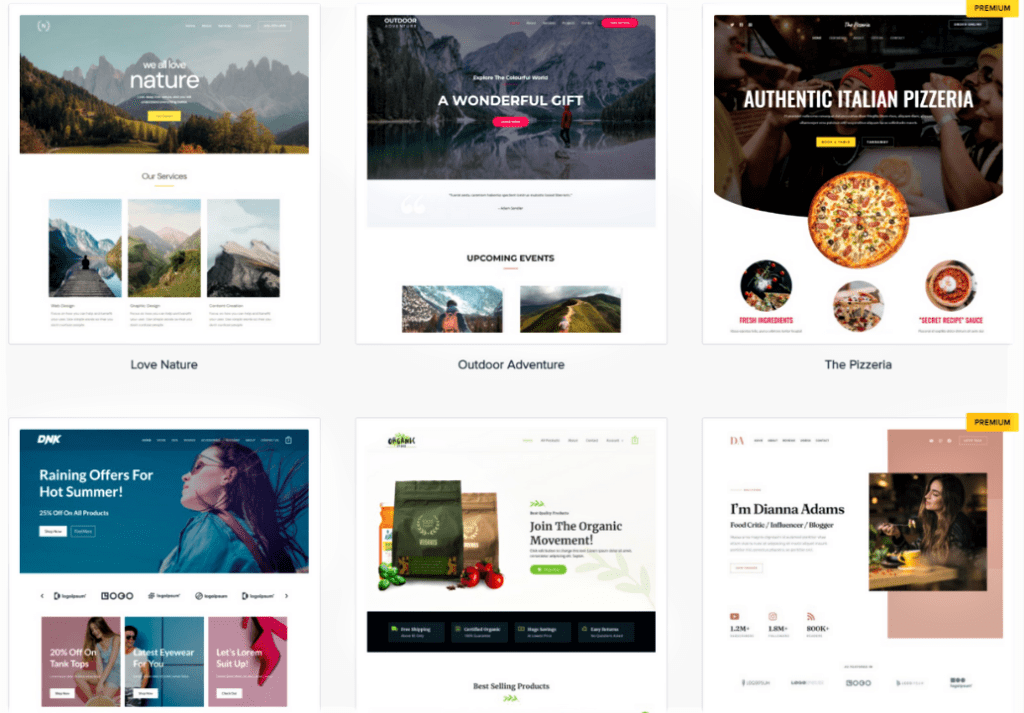 Astra
There are more than 70 designs available in Astra, and 35 of them are free to use.

It offers a wide range of headers, widgets, layouts, and other elements that can get you started quickly.

The quality designs of Astra is slightly better than OceanWP.
OceanWP
There are 73 pre-made designs in OceanWP, but only 13 are available for free.

It provides an impressive range of customizable elements, including 7 header styles, 15 widgets, and 5 starting layouts.

OceanWP provides more options for customizing themes.
Features & Extension
Astra and OceanWP come with essential features for any WordPress theme but each has its own unique built-in features. Both of them have native support for WooCommerceWooCommerve, optimization for fast-loading websites, SEO-friendly markup code, translation-ready, and drag-and-drop page builders.
As you can see, when it comes to essential WordPress features, Astra and OceanWP have a lot in common. But, OceanWP standouts in its WooCommerce integration. It includes a native popup for your shopping cart, a floating add-to-cart bar, and a quick view option for products. Moreover, OceanWP gives you more control over your website and your website design. Unlike Astra, OceanWP has a dedicated theme settings area in addition to the options within the WordPress theme customizer.
On the other hand, the main Astra theme options page is really just a landing page. It directs you to the WordPress theme customizer, downloadable plugin extensions, and links to the Astra documentation area and Astra Facebook group. However, Astra has a more fast and well-organized customizer page compared to OceanWP.
In terms of extension, Astra has 9 free extensions from its 12 plugins to enhance Astra's customizer flexibility. A few of the suggested free extension plugins are Import/Export Customizer Settings, Astra Customizer Reset, and Customizer Search plugins. Furthermore, Astra offers a very useful feature, Astra Bulk Edit, to help you modify the meta information of many posts and pages at once.
Meanwhile, OceanWP offers more extensions, up to 21 plugins with 8 free extension plugins. However, since the functionality of Ocean Demo Import is now in OceanWP Extra, you will get only six additional free plugin extensions. The free extensions by OceanWP are including Stick Anything, Modal Window, Posts Slider, Custom Sidebar, Product Sharing, and Social Sharing.
In conclusion, there are some noteworthy distinctions in the feature sets that each Astra and OceanWP provide.
Astra
Offers integrations with LearnDash, LifterLMS, and Easy Digital Downloads.

Provides 12 extensions of which 9 of them are free.

Large selection of demo sites (most are available starting in the Mini Agency plans).

Fast and very well-organized customizer.

Unlimited website usage.

Provides Astra's Custom Layout module with hook options.
OceanWP
Offers better integration with WooCommerce than Astra.

Provides 21 extensions of which 8 of them are free.

Ability to enable or disable certain CSS and JavaScript code snippets

Native popup login

In-depth page-level customization 

Provides hooks for developer use
Page Builder Support
Astra is designed from the ground up to work with page builders. It integrates smoothly with popular options such as Beaver Builder, Elementor, Divi Builder, Site Origin, and WPBakery Page Builder (Visual Composer). In addition to that, it lets you turn off the page title and sidebar while working on your content, giving you more space to focus on design. Finally, the Agency Bundle (the most expensive version) comes with add-ons designed for specific page builders.
OceanWP is also designed to work smoothly with page builder plugins, even though not as wide as Astra. In particular, the developers have taken care to ensure that it supports Elementor, Visual Composer, Divi, and Beaver Builder. One of the extensions you'll get with the premium version also adds a number of widgets specifically designed for Elementor.
In conclusion, Astra has an impressive library of starter sites built with different page builders along with the Ultimate Addons plugin. However, OceanWP's page-level customization and deep integration with Elementor is not something to be set aside.
User Interface
There's a big difference between Astra and OceanWP's user interface. Both their customizer and theme options pages are very much different from one another.
Astra
Astra's customizer page is cleaner and more well-organized compared to OceanWP. The page displays all information you need about Astra and links to various customization options and external help pages related to the theme. This is also the page where you can view and control your premium modules.
You can access them via Appearance > Astra Options.
OceanWP
OceanWP's customizer page is a bit all over the place contrary to Astra's. They are still grouped together, but not as intuitive as Astra's. However, the setting tabs allow you to customize almost all elements using the theme's built-in customizer. There's no need to write a single line of code at all.
You can access them through the Theme Panel menu item in the left admin navigation sidebar.
In conclusion, Astra's customizer is better than OceanWP, mostly due to its usability and clean user interface. However, in terms of available options, OceanWP excels in it than Astra's. From a feature standpoint, OceanWP definitely comes out on top.
Speed & Performance
It's important for you to choose a lightweight theme. Lightweight themes are your best bet if you're looking for a website that loads quickly and is easy on the server. Both Astra and OceanWP are well-optimized and built to ensure blazing fast load times and performance.
Astra uses basic JavaScript instead of jQuery, a choice meant to optimize speed. Moreover, Astra is already an AMP-ready WordPress theme. An AMP (Accelerated Mobile Pages) helps you to create user-friendly fast-loading web pages. The fact that Google promotes the design on its official AMP WordPress website is a testament to Astra's quality of coding.
As for OceanWP, it offers a few unique performance-based features. For instance, it provides the option to disable all scripts and styles that you don't need. This is a smart way to speed up your site since it will no longer need to load the JavaScript and CSS associated with unused features.
Based on the speed test, it shows that Astra performs way better on both PC and mobile phone. Meanwhile, OceanWP slowed things down a bit (although not enough to be a problem).
Price
Astra and OceanWP can both be used for free, but, if you opt for the free versions of these themes, you won't be able to access all of the theme demos. Many useful features and settings that are found in premium modules and extensions will be missing too.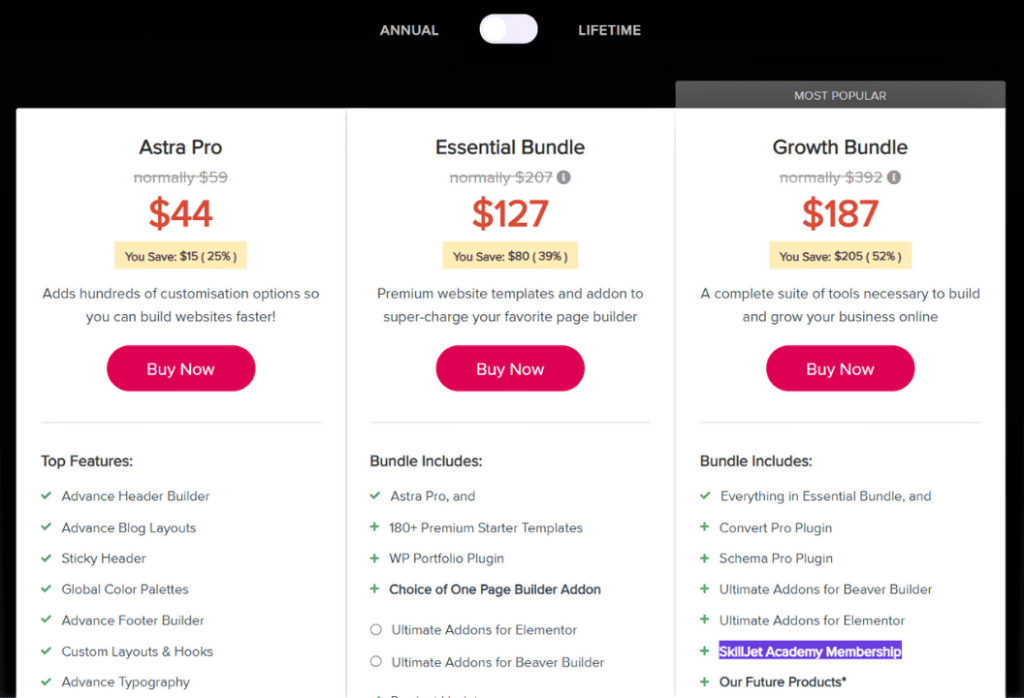 Astra
All plans in Astra can be used for unlimited websites. Astra's regular pricing comes into yearly pricing tiers and lifetime pricing tiers.
Astra Pro
 Comes with all pro features unlocked, including one year of updates and support.

Costs for $44 per year or $187 for a lifetime.
Essential Bundle
Comes with everything from Astra Pro plus WP Portfolio Plugin and a page builder addon of your choice, which is either the Ultimate Addons for Elementor or the Ultimate Addons for Beaver Builder.

Costs for $127 per year or $374 for a lifetime.
Growth Bundle
Comes with everything from Astra Pro and Essential Bundle plus both page builder addons, Convert Pro, Schema Pro, SkillJet Academy, and any future plugins Astra will have.

Costs for $187 per year or $524 for a lifetime.
OceanWP
Unlike Astra, OceanWP's pricing tiers all include the same set of features. But, there is a difference in the limited number of websites. There are 3 pricing tiers in OceanWP with yearly or once-in-a-lifetime payments.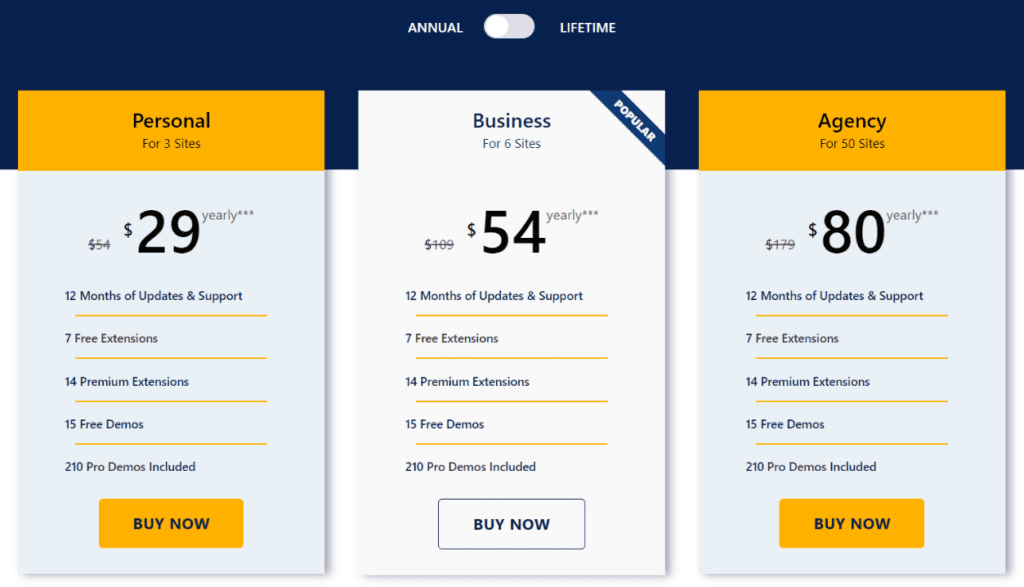 Personals
For 3 sites.

Costs for $29 per year or $122 for a lifetime.
Business
For 6 sites. 

Costs for $54 per year or $222 for a lifetime.
Agency
For 50 sites.

Costs for $80 per year or $326 for a lifetime.
The premium plans for Astra and OceanWP both offer great value. However, there are differences between the two. When you purchase Astra premium plans, you will get support and updates for an unlimited number of websites. But, you need to upgrade to the higher-priced plans to gain access to all theme demos and bonus plugins.
On the other hand, when you purchase any premium plan of OceanWP, you will have access to all premium theme designs and plugin extensions regardless. But, you need to upgrade to the higher-priced plans to get support and updates for additional websites.
In conclusion, Astra's pricing plans are suitable for big agencies with several websites at once. While OceanWP's pricing plans are better for a personal website or for a single client only.
Conclusion
Astra and OceanWP are both great themes that offer aesthetic and customizable pre-design themes and unique features. Overall, Astra is suitable for developers who need unlimited website usage. It's also a great choice if you want to build a website that could perform faster as it's AMP-ready. Despite being easy to use, Astra is lacking in customization ability compared to OceanWP.
On the other hand, OceanWP is the perfect choice for you who want to build an eCommerce website. The themes are also highly customizable with a bunch of customization features and extensions. However, if you have a big project on several websites at once, you will need to pay more since OceanWP's pricing tiers are based on the number of websites.
References