Revealing 7 Exceptional Things That Caesium Image Compressor Does
In the previous post, we have reviewed Caesium Image Compressor, a great image compression tool for webmasters, photographers, and casual users. It's not an ordinary image compression because it gives high flexibility in compressing images, unlike other tools. 
So, in this post, we will reveal the 7 Exceptional Things You Can Do with Caesium Image Compressor.
Caesium Image Compressor
Caesium Image Compressor is a free image compression application that allows you to compress your pictures up to 90% without visible quality loss. This tool is suitable for photographers, bloggers, webmasters, businesses, and casual users that seek high flexibility image compression. 
The high flexibility in it is due to the complete features that Caesium Image Compressor provides for compressing images. You are able to do lossless compression, batch compression, compression level setting, and easy preview in one tool with Caesium Images Compressor. Moreover, it supports all types of images starting from JPEG, PNG, GIF, BMP, and WMF. Additionally, the app has a simple and intuitive interface, hence, it's easy to use even for the beginner.
Before getting to the main topic, you can read our full review about Caesium Image Compressor here.
7 Things You Can Do With Caesium Image Compression
There are at least 7 things you can do in Caesium Image Compression.
Compress Images in Windows, Mac, and Linux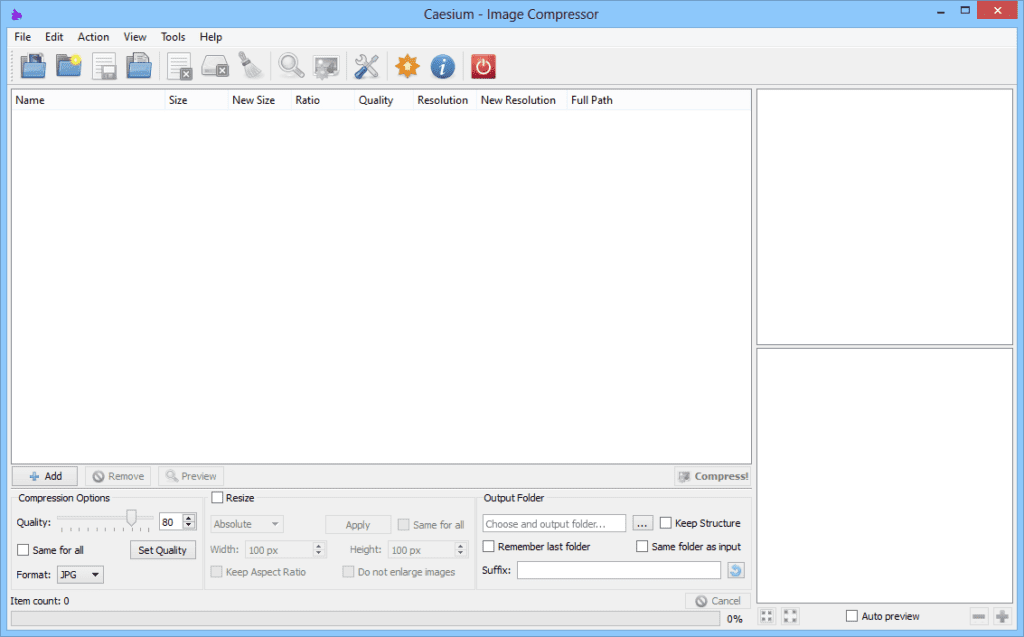 Caesium Image Compression is a free tool that allows all users of Windows, Mac, and Linux to compress images offline from the desktop. You can download the Caesium Image Compressor application for each OS on its official website. Caesium Image Compressor is an all-in-one tool because you can do image compression, image resizes, file format change, and batch compression in one application. Besides that, advanced users will find extra features, like metadata storing options or folder structure support.
Everyone can get accustomed to the Caesium app right away because the app is easy to use. The user interface of the Caesium app is simple yet effective with a real-time preview and multiple image processing at the same time. You can take advantage of the drag & drop feature when inserting images for compression.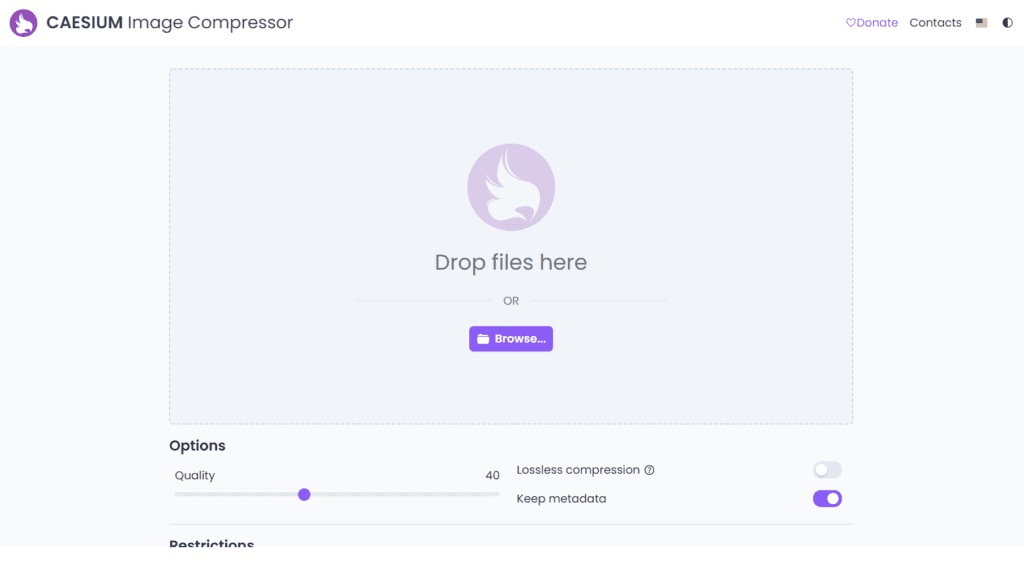 If you find downloading and installing an application on your desktop is bothersome then you can take advantage of Caesium Online Compressor. This tool allows you to compress images by simply entering the Caesium website and uploading the images you want to compress there. After that, Caesium will automatically compress your images. 
Besides image compression, you can find other options on Caesium Online Compressor. There are options for lossless compression, batch compression, and keep metadata. Moreover, it allows you to set the quality level of your images using the compression slider. However, this online compressor has some restrictions like only allowing JPG, PNG, GIF, and, WebP formats, a maximum of 10 Mb per single file for compression, and 5 images for batch compression. Also, be aware of the fact that your uploaded image is automatically deleted after the compression.
Compress Images Without Quality Loss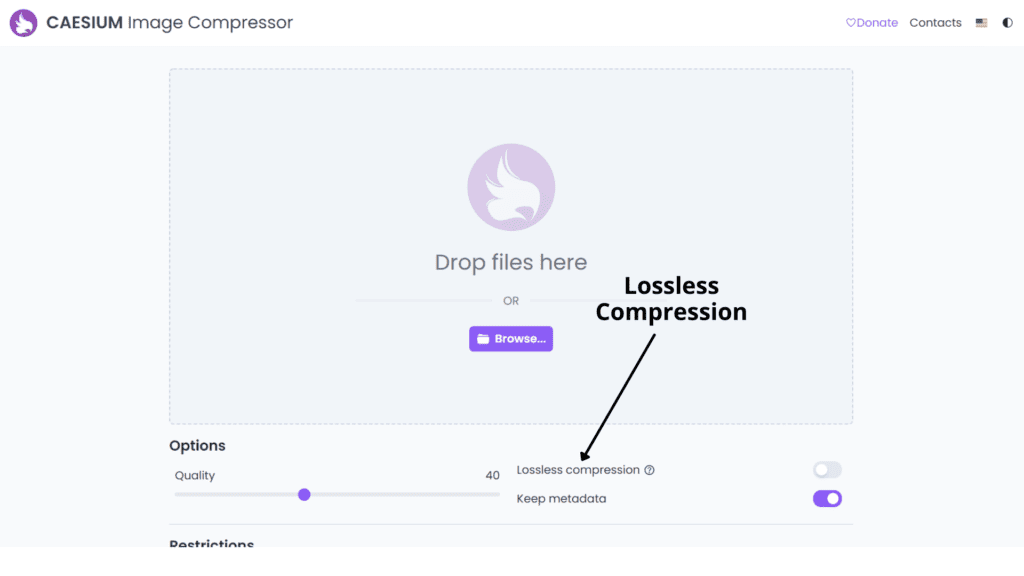 You can do the so-called "lossless compression" or compressing images without quality loss with Caesium Image Compressor. It claims to be able to compress your pictures up to 90% without visible quality loss. For your perusal, the lossless compression only works on JPEG and PNG files.
To use this feature, all you need to do is tick the lossless compression option before you start the compression process. With this option selected, your image size will be compressed but the image quality will still be preserved.
Set Compression Quality Level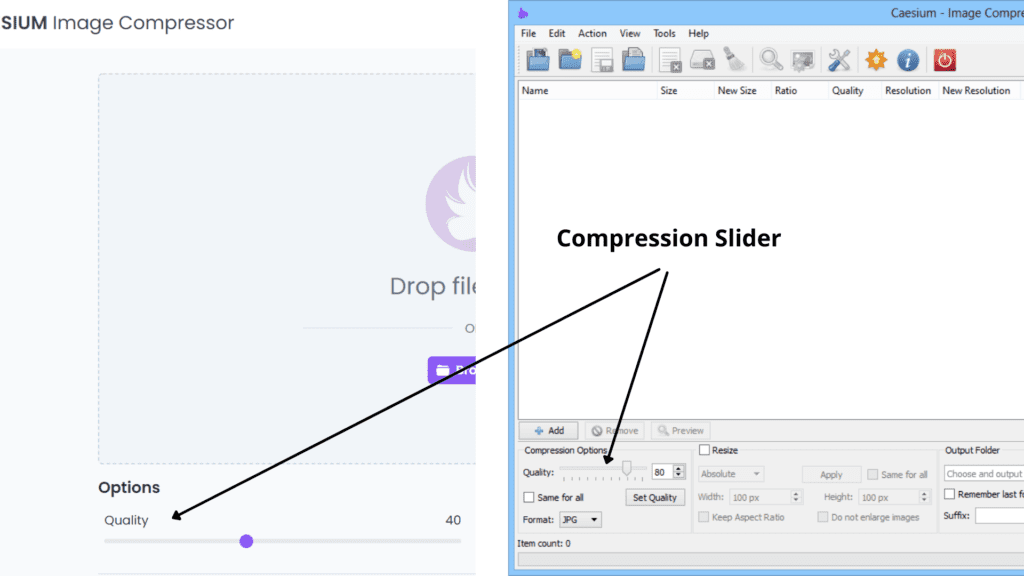 Not only providing a lossless compression, but Caesium also enables you to specify the quality level when compressing your image. Inside the app, there is a compression slider that determines the image quality preserved from 1 to 100 scale. 
If you want Caesium to compress your image size as small as possible then you should set the compression slider to the smaller number. However, beware of the possibility that your image quality may greatly decrease if you set the quality level low. Therefore, we recommend you use a 40 – 80% compression quality level when compressing images for a decent quality result.
Find out more: Tips & Trick – How to Compress Your Images Without Losing Quality



Preview Image Before Compression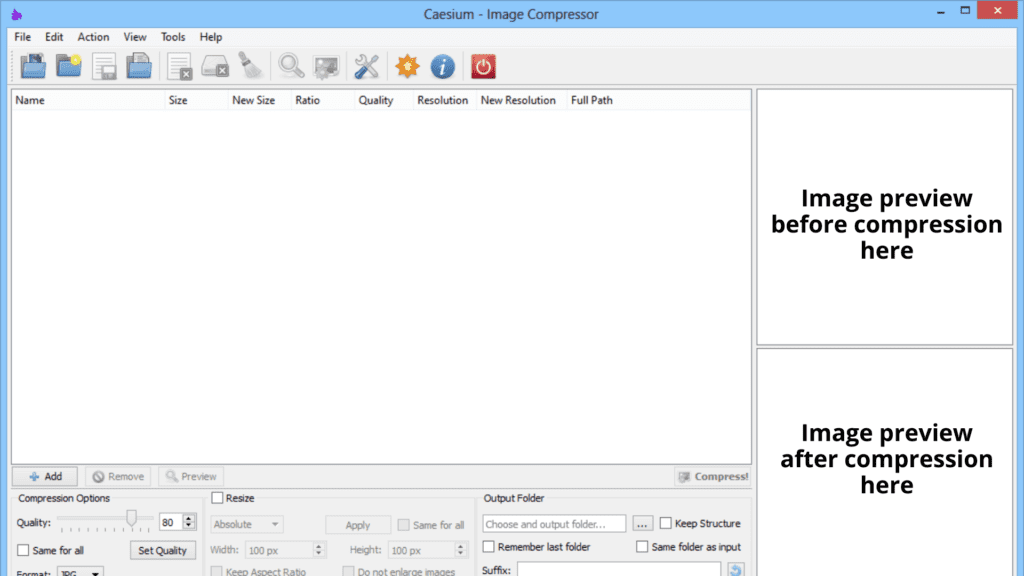 One of the important features in image compression applications is "image preview". With this feature, you can see the final result before the compression process takes place. This feature is useful to estimate how much quality will be reduced when compressing images at a certain quality level.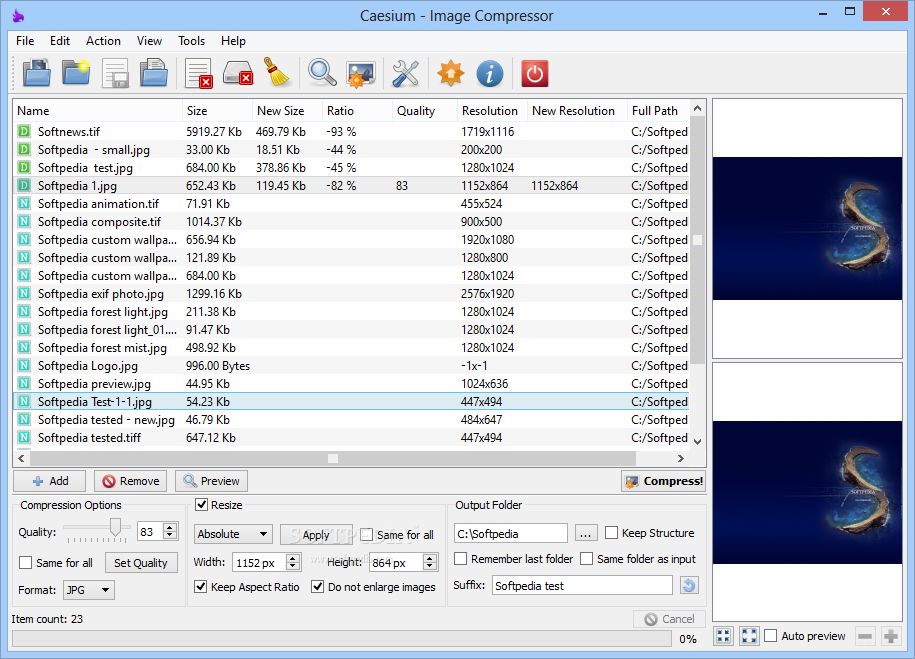 You can compress several images at once with Caesium Image Compression or what is usually called "batch compression". If you're using the Caesium app on the desktop, you can insert one folder containing many pictures into the app then all the images will be compressed altogether. Specifically for the Caesium Image Compressor Online, it allows you to do a batch compression for up to 5 images at once. 
Resize Image & Change Format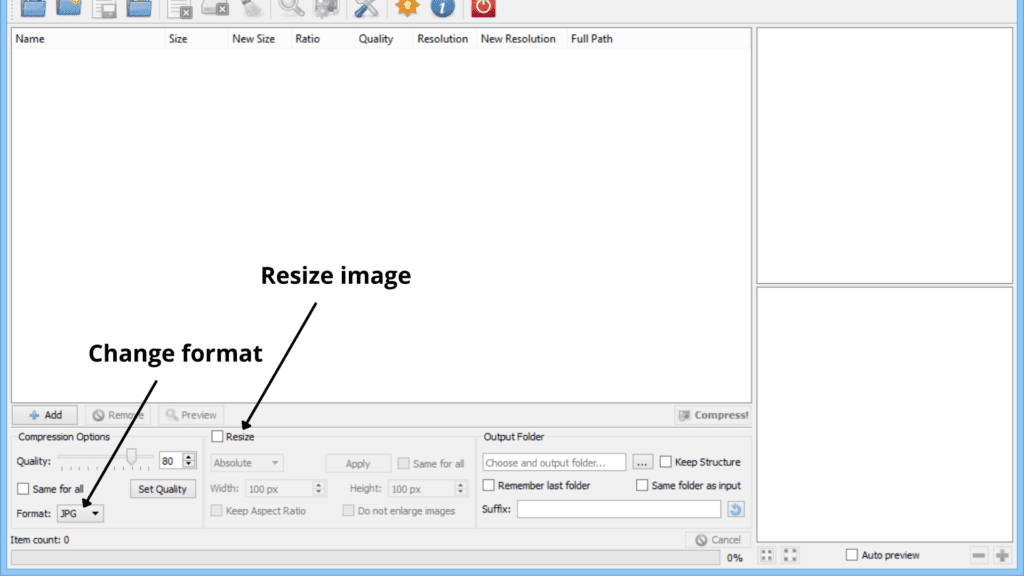 Apart from image compression, Caesium also allows you to resize images or change the image file format that will be compressed. When resizing images, you need to tick the resize option inside the Caesium app. Then, you can set the height and width of the image you desire. If you want to keep the same aspect ratio, there is an option for it. 
Additionally, there is an option to change the file format for the image output. On account of that, you can set the output format as JPG, PNG, or BMP.
Conclusion
Caesium Image Compressor is a great image compression tool for photographers, bloggers, webmasters, businesses, and casual users. On top of being free, Caesium is a highly flexible tool not only for compression images but also for resizing images. Moreover, there are more features inside, such as batch compression, compression slider, change format, and preview images. The tool is very easy to use thanks to the simple and intuitive interface it has. Besides the desktop apps, Caesium also provides an online compression tool that you can use without downloading an application. 
References